5 DIY Personalized Valentine 's Day gifts
With Valentine's Day just around the corner, we have some cool personalized gifting ideas for you that won't burn a hole in your pocket. Make that someone special, something special this Valentines!
1. Jar of hearts

Here's a really thoughtful way to express how you feel about your partner. All you need is a mason jar or you could even use an old jam jar, spruce it up with a little personalized message and fill the jar with little notes that express how much your partner means to you, it's so easy to do and one of the most thoughtful way to say 'I love you'.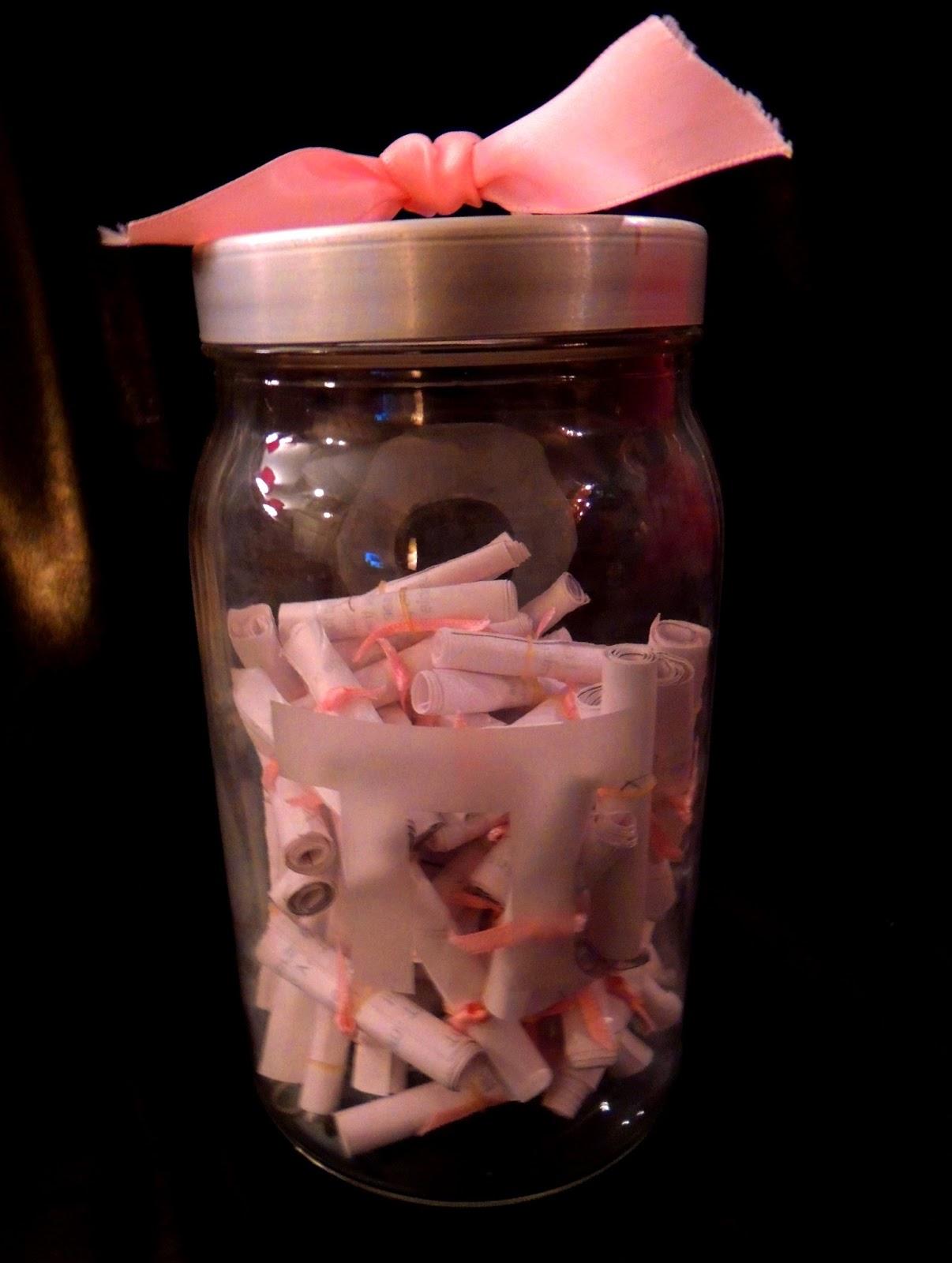 Source: http://en.paperblog.com/jar-of-hearts-494835/


2. Setting the mood

There's no better way to set the mood, than to make your own scented candle gift. You'll need some candle wax, a candle wick, mason jar or any container, colourants and your choice of fragrances, all these items are easily available at your local craft store.
Double boil the wax till it melts, you can then add your choice of color and fragrance oil once the wax cools down a little, place a wick in the jar and slowly pour the wax in and Voila! Your candle is ready. Experiment with cool quirky fragrances like strawberry, cocoa, peppermint, lemon or even try and create your own fragrance.

Source: http://www.bonbonbreak.com/valentines-day-diy-candles/

 3. Message on a bottle

If you are planning to pop the bubbly a simple yet thoughtful idea would be, to decorate and personalize the bottle before you gift it, you could write little love notes or quotes that symbolize your relationship or make a collage with fun pictures of the two of you. This way you have an evening filled with lovely memories and a bottle to remind you of that for eternity.

Source: http://craftdabbler-toni.blogspot.co.uk/2013/05/3-wishes-altered-bottle.html

4. Cuppa joe lovers

Make every cuppa joe you have more memorable, by making your partner a customized coaster. You could get creative with the coaster base material or pick up and MDF or wooden coaster bases from your stationery store and paint a little something that symbolises your relationship.

Source: http://www.abubblylife.com/2014/01/diy-heart-coasters-valentines-day.html

5. Honey be mine

Add a dollop of sweetness this Valentine's day and gift your partner a honey jar, you could personalize the jar or add a sweet message and a honey dipper and you are all set to go. Simple, utilitarian and perfect for your loved one.

Source: http://www.earnesthomeco.com/wp-content/uploads/2013/02/bee-mine-diptych.jpg
Article written by: Rithika Kumar